Special Offers
Available on official website only.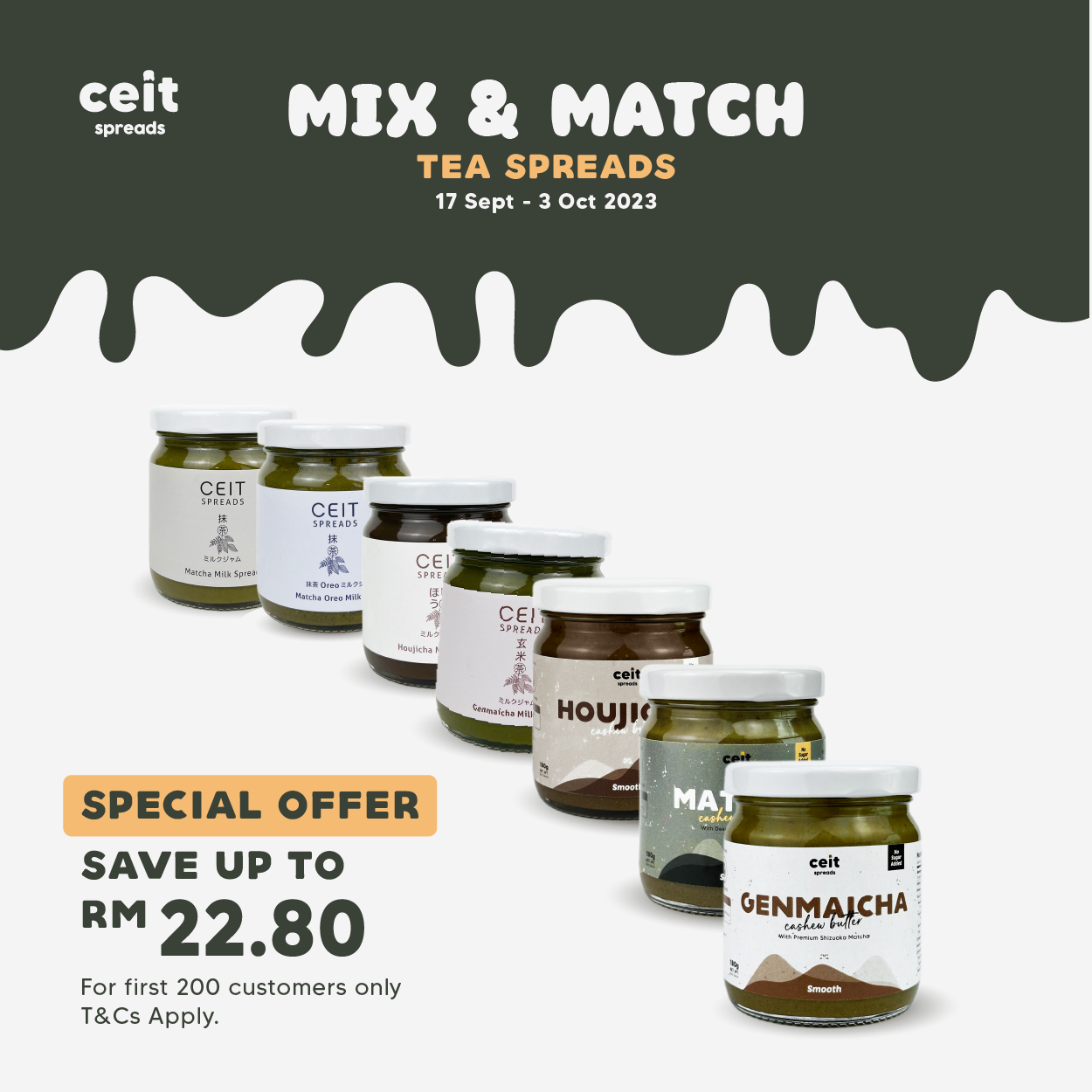 🔥 MIX & MATCH 🔥
✅ Buy ANY 𝟐 𝐣𝐚𝐫𝐬, Enjoy FREE Delivery (West Malaysia Only)
✅ Buy ANY 𝟑 𝐣𝐚𝐫𝐬, get FREE 𝟐 𝐱 𝐌𝐚𝐭𝐜𝐡𝐚 𝐂𝐚𝐬𝐡𝐞𝐰 𝐁𝐮𝐭𝐭𝐞𝐫,𝟑𝟎𝐠
✅ Get 4th Jar @ 𝟑𝟎% 𝐎𝐅𝐅
Scroll down for the full menu
or
Tea Spreads
Base Options: Milk / Cashew Butter
Flavor Options: Matcha / Houjicha / Genmaicha
Promotional T&Cs
1. 30% Off is applicable to every forth jar that is of equal or lesser value than the first jar.
2. Valid at Ceit Spreads official website only.

3. Orders placed outside of the specified dates are not eligible for these offers and the offers cannot be applied or transferred to any previous or subsequent orders placed outside of the period stated.
4. The discount offered will be applied at checkout, if there is a promotional code this must be entered at checkout for the promotion to apply.
5. The offers are only valid while stocks last and are subject to availability. Normal return policy applies to these offers.
6. These offers are not valid in conjunction with any other offer offer unless specifically stated.
7. Only 1 redemption per order.
8. Ceit Spreads reserves the right to cancel orders, modify or terminate a promotion at any time without notice.
9. 2 Bottles FREE delivery is only applicable for West Malaysia.